If your dog has been chewing your kitchen table leg and you need a new one or you have an old staircase with that broken spindle you have always been meaning to replace, we are here to make that happen. If you need a turning matched then we have the skill and the machinery for a complete reproduction service. Whether its a listed building project or a cherished family item we'll do our best to make it happen.
The bespoke service we offer will provide you with almost limitless possibilities. It is important that your choice reflects the needs of the individual projects.
Established buildings are more likely to require traditional turned, twisted or fluted profiles, whilst a contemporary interior will often command a sleek minimalist style.
Either way we are able to produce one off samples to your requirements for your client's approval.
Running alongside our bespoke department, our high production equipment is producing standard ranges of stair and furniture components on a daily basis. These competitively priced ranges allow you to be able to produce high quality end products within sensible budgets.
Call now for more help  01787 475456 or email us at sales@richman-uk.com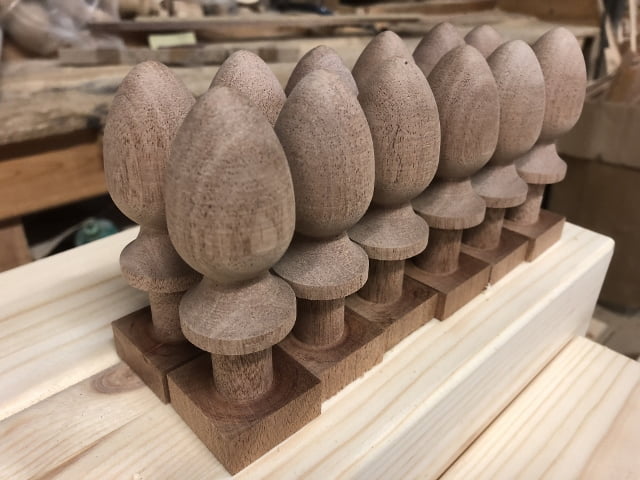 Buildings with planning restrictions or a listed status will often require replacement with replica turnings. These can be matched to the original profiles from drawings or samples, often to exact reproductions.
Sections of timber that are unavailable in single piece component form can be laminated in our own machining department. This allows us to maintain constant quality checks throughout the whole of the manufacturing process, giving you the peace of mind to know that the product will perform within the environment it was designed for.
Ordering couldn't be easier, you can contact us with a sample in three ways
Send us your original to copy
If you can remove the turning safely, then this is the best way to make sure we are able to match as closely as possible. Make sure you wrap your sample well and supply any other details such as timber type or lengths if some of it is broken.
Take a photo
If you cannot remove the turning, then take the clearest front on, picture you can and try to give as much detail as you can. Remember the more detail we get the closer to the original we can produce. Its often a good idea to to print your picture off at home and add the dimensions to the picture. Then pop it in the post or email it across to sales@richman-uk.com.
Send us a line drawing
If you want you can send us a detailed line drawing. Put as much detail as you can on as with all of them we will need preferred timber type, Timber section size and quantities. Then as with the photo just pop it in the post or email us sales@richman-uk.com
Don't forget to supply us with preferred timber type and quantities for us to give you an accurate quotation
If you need any other help, please call us on 01787 475456 or email sales@richman-uk.com